Pork Chops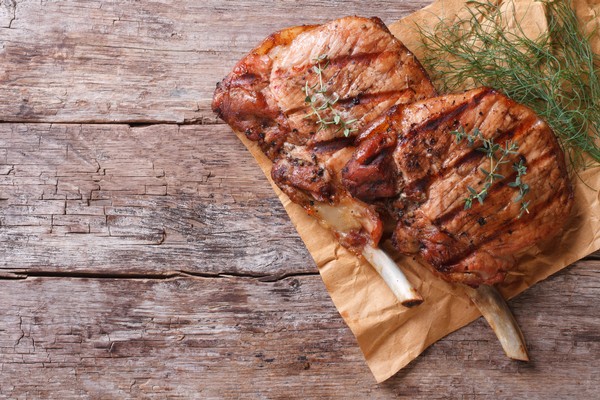 Measurements:
Imperial (US)
Ingredients
2 thicker cut bone-in pork chops
3 pieces of bacon
herbs of your choice
1/2 cup chicken or beef stock
1/2 cup red wine
2 tbsps butter
dash of heavy cream
salt and pepper to taste
Directions
Sprinkle pork chops liberally with salt, and a dash of pepper and herbs (I like our homemade herbs du Provence from our garden). While they rest a bit to come to room temp, cook a couple pieces of bacon in a cast iron skillet, remove and finely crumble when done. Drain off most of the bacon fat, but leave enough to cook the chops. Sear over medium high heat, and when the chops are medium to the touch, pull and let them rest under foil.
Pour off any heavy remaining fat, then deglaze the pan with stock, then add some red wine and a healthy dose of butter. A tiny bit of cream is always welcome- but this should be a very small amount- just enough to fatten out the sauce. Cook it down until it is thick and almost syrupy (maybe 1/4 cup left), and if you like, either add the bacon bits into the sauce, or perhaps enhance the (requisite) mashed/baked potato with them. Plate the chops, and drizzle the pan sauce over them. Open a bottle (or two) of Holdredge Pinot. C'est voila!