Our Labels
---
Carri's family worked in the television and film industry. Both her parents were artists. Carri's father, Tom O'Loughlin, worked for all the big studios (Disney, Warner, Hanna Barbera, etc.), where he painted backgrounds for many of the early animated cartoons (Bugs Bunny, Road Runner, Looney Tunes, etc.).
Tom has over 200 IMDB credits for his work as an artist, which is an enormous body of work particularly given that his work was done without the benefit of computers. He was a voting member of the Academy of Motion Picture Arts and Sciences, and received an Oscar nomination for his work on the original (animated) "Pink Panther".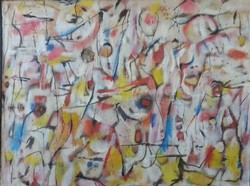 When we got married, Tom gave us a choice of any painting in his studio as our gift. We chose a painting called "Primordial".
When we began working on our label, we were fortunate to have world class designer Chuck House agree to assist us. We found Chuck after going through 1,000 or so bottles in our cellar and choosing 7 labels that we both felt had a quality about them that we liked. After the owner of one of the wineries gave us Chuck's name, we contacted him. It turned out that Chuck had designed 6 of the labels we liked (the 7th was designed by his former business partner). Chuck is very well known and in great demand, so his agreeing to work with us was a great thing, and it always felt "right".
The process took us almost 14 months, and really Chuck spent a lot of time trying to draw our design out of us rather than simply designing a label himself- the idea being to capture "us" in the label. We finally decided to use the painting in the label. Chuck shot about 100 small "details" (sections) of the painting from different angles, and we laid them out to each choose a favorite without the other being present.

Without hesitation, and independent of each other, we both chose the same detail, which now graces our label.
From there, the label came together in a couple weeks- the big decisions being whether to frame it in black of gold leaf (gold leaf won), and the font (which is a proprietary text Chuck owned). The picture reminds us both of the album cover for "Layla" (Derek and the Dominoes), and most folks see a woman's face, a glass of red wine (naturally), and some see the side profile of a very handsome man with a large nose. We have no idea who that man might be.
Tom passed away in 2007. We are honored to have Tom's work on our label, and to respect his artistic legacy in this small way.