The Big Chair!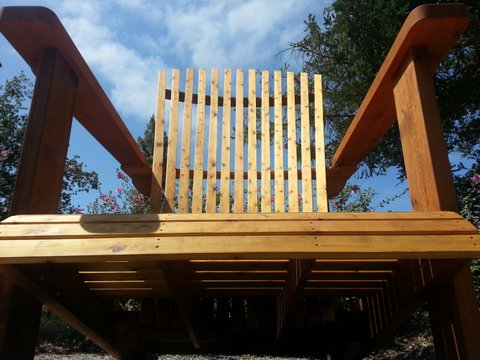 This project began when an oak tree to the south of our winery fell down. A large open space remained and we wanted to put something in its place. After debating various potential art installations, we knew we wanted something different and interactive. We had seen "big chairs" in other places (Europe, upstate New York), and we thought it would be a fun thing to have in front of the winery.
We wanted to build an Adirondack style chair, but we'd never seen a "big" one. So, we enlisted the help of our friend Mike Nonella, who helped us with wood selection and to draw up plans. Then another friend, Randy Davis, who is an excellent carpenter, oversaw the construction of the chair. And then about a half dozen friends helped us move it out of the winery to where it proudly stands. They all assured us they were happy to help, but we know if there had not been cold beer involved, the chair might still be in the winery!
As it turns out, it's not the only big Adirondack chair around. And though we haven't seen a bigger one, odds are that somewhere, there is a bigger one. But ours is pretty darn big and a bit of silly fun to round out a day of tasting wine.