Tasting Room
---
Our Tasting Room is Currently Closed.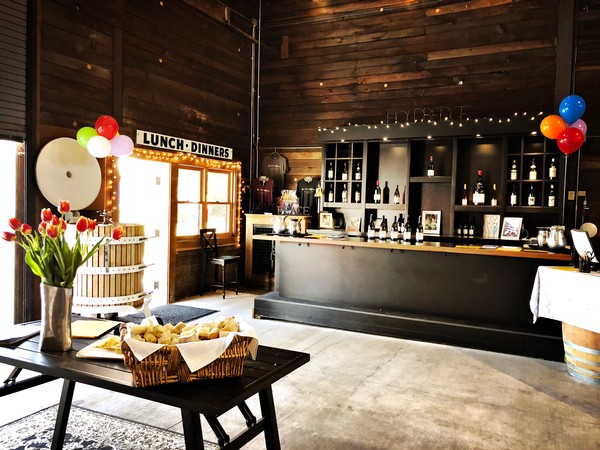 We are no longer in the barn, but continue to ship wine, and local delivery in Sonoma County is still complimentary. Although our wine inventory is very low, we are still releasing new wines (the 2022 vintage is amazing!), and our Wine Club events will continue. For all inquiries, please email: Carri@holdredge.com
Mailing Address:
Holdredge Wines
P.O. Box 456
Healdsburg, CA 95448
Phone:
707.280.8902
Email:
carri@holdredge.com
The Big Chair
This project began when an oak tree to the south of our winery fell down. A large open space remained and we wanted to put something in its place. After debating various potential art installations, we knew we wanted something different and interactive. We had seen "big chairs" in other places (Europe, upstate New York), and we thought it would be a fun thing to have in front of the winery.
We wanted to build an Adirondack style chair, but we'd never seen a "big" one. So, we enlisted the help of our friend Mike Nonella, who helped us with wood selection and to draw up plans. Then another friend, Randy Davis, who is an excellent carpenter, oversaw the construction of the chair. And then about a half dozen friends helped us move it out of the winery to where it proudly stands. They all assured us they were happy to help, but we know if there had not been cold beer involved, the chair might still be in the winery!
As it turns out, it's not the only big Adirondack chair around. And though we haven't seen a bigger one, odds are that somewhere, there is a bigger one. But ours is pretty darn big and a bit of silly fun to round out a day of tasting wine.
---
ADA and DPA Compliance
Ensuring that our friends and guests who have physical challenges or disabilities can enjoy themselves during their visit is very important to us. So, we have made sure our winery and tasting room facilities have accessibility features that allow all our friends and guests to enjoy their tasting with us unencumbered by architectural barriers.
This includes, but is not limited to, having such architectural features as: properly marked dedicated parking for vehicles transporting disabled persons, (including vans); clearly marked and unobstructed dedicated paths of travel to and from those parking spaces to our tasting room, without stairs, and within the permissible slope or grade; fully accessible doorways (including turning clearances, turning space and threshold heights, doors/door handles (including the weight, type of handle and the force/pressure necessary to utilize the handle or open the door), fully accessible bathroom facilities (including an accessible toilet, with pull bars, proper clearances, turning space, an accessible sink (including height, handles type, insulated pipes, paper dispenser height and mechanism for dispensing paper). Our tasting bar is fully accessible, including an accessible tasting bar of proper height, turning area and access- which is physically part of the same bar where we serve everyone - so all our guests can enjoy the same experience.
This is a partial list of our accessibility features- there are many more. While our winery has accessibility features which make it available to everyone to use, if there are any questions about other accessibility features not addressed here, or any other concern or any specific accessibility feature you are interested in which is not addressed here, please contact us so we can provide more information. We look forward to providing you a tasting experience that is fun, and fully inclusive.