Grilled Salmon with Lemon-Rosemary Sauce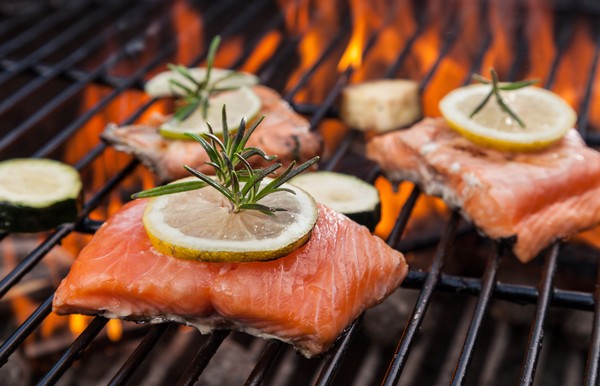 Recipe Date:
July 24, 2018
Measurements:
Imperial (US)
Ingredients
2 Lemon
3 tbsps Extra Virgin Olive Oil
1 tbsp Fresh Rosemary, chopped
2 Garlic, minced
1/4 tsp Salt & Fresh Ground Pepper, to taste
1 lb Salmon Fillet
Directions
Cut salmon into 4 portions and place in a shallow dish.
Juice one lemon into a small bowl and add olive oil, chopped fresh rosemary, garlic, salt and freshly ground pepper to taste.
Cut the other lemon into wedges or rounds for serving.
Use 2 tablespoons of the lemon juice mixture to marinate the salmon.
Cover and marinate in the refrigerator for 30 minutes.
While salmon marinates, heat grill to medium-high.
Right before cooking, lightly oil grill rack by rubbing a piece of oil-soaked paper towel over surface (use tongs to hold paper towel).
Place salmon pieces on grill, skin side up.
Close lid and cook for 4 minutes.
Using two metal spatulas, carefully turn salmon pieces over; cook just until opaque in the centre and fish flakes when tested with a fork 4 to 8 minutes longer, depending on thickness.
Serve the salmon with the remaining sauce and lemon wedges.