Classic Winter Mushrooms on French Bread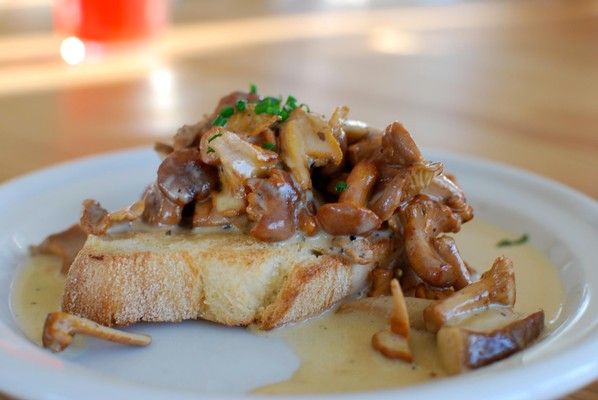 Recipe Date:
January 12, 2015
Measurements:
Imperial (US)
Ingredients
1 lb Chanterelles (you can use less and make it up with other mushrooms)
2 tbsps Butter
1 small shallot, minced
2 tsps Fresh Thyme, chopped
1/2 cup Heavy Cream
Brandy (the good stuff for heaven's sake!)
1 cup Fresh peas, cooked (optional)
Directions
Pour a nice snifter of the Brandy and enjoy it while you cook dinner. Always.
Cut the mushrooms into pieces (relatively large as they'll cook down). Sweat the shallots in the butter over low heat, then the garlic. Turn heat to medium and toss in the mushrooms. Cook until al dente (don't overcook them!). Take mixture out of pan and let it rest while you bring up the heat on the pan. Deglaze the pan with some Brandy (don't ask me how much- be generous!) and scrape up any brown bits. Add the mushroom mixture back, and add the Thyme. If you chose to use the peas, add them now as well. Cook briefly, and then add the cream and cook while stirring to coat everything.

Meanwhile, slice a loaf of French bread lengthwise and then into four in pieces. Toast the bread and place a piece onto each plate. Spoon the mushrooms and any sauce of the bread. A little thyme sprinkled over the top is nice. Serve immediately.