Bacon-Wrapped Dates with Chorizo & Balsamic Glaze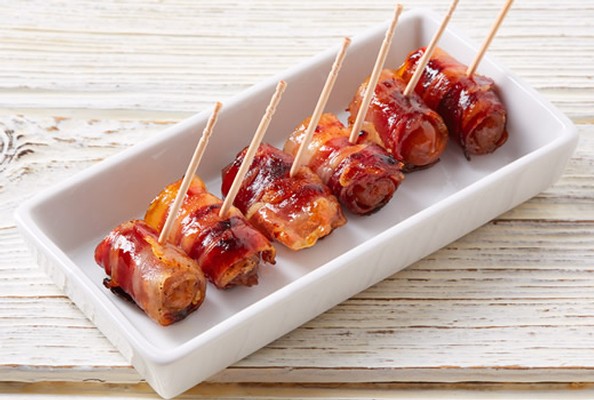 Recipe Date:
September 29, 2017
Measurements:
Imperial (US)
Ingredients
36 each Medjool Dates, pits removed
12 slices, best quality bacon you can find
3 links, Chorizo sausage, pick a version that has good flavor and moderate "heat"
36 each fancy bamboo toothpicks
2 Tablespoons Pinot Noir-Balsamic glaze (see recipe below): [optional]
Directions
Place a medium-sized sauce pot over high heat with 1 1/2 quarts of water. When the water boils, lower to a simmer and add the bacon slices one at a time so they do not stick together. Simmer for 3-5 minutes, remove and lay out on a paper towel.
Meanwhile, pre-heat the oven to 350 degrees and roast the chorizo for 10-15 minutes. This renders some of the fat. Remove, let cool, remove the skins and cut into rectangles just large enough to tightly replace the pit in the dates.
Insert the chorizo strips in each date. Lay out the bacon slices side by side on a cutting board. Roll a bacon slice tightly around the first date so that it is two layers thick. This should use 1/3 - 1/2 of the slice. Cut the bacon at that point and place a toothpick through the bacon and date to hold it together. Using this technique, you should be able to roll 2 or 3 dates from each slice of bacon. Continue until all the dates are rolled. You can do this the day before.
To serve, pre-heat your oven to 350 degrees. Place the bacon-rolled dates on a baking sheet and roast for approximately 15 minutes, until the bacon is crisp on the outside. Drizzle very lightly with balsamic glaze and watch them disappear!
Pinot Noir Balsamic Glaze
Makes 2 cups (you will find lots of other uses for this!)
Ingredients:
1 Tablespoon butter
1/4 cup shallots, finely diced
1 Tablespoon golden brown sugar
1/2 cup Pinot Noir
2 quarts balsamic vinegar
Method:
Saute the shallots in butter. Add the brown sugar and wine and reduce to half. Strain to remove the shallots. Add the balsamic vinegar, bring to a boil and turn your exhaust fan on. As it start to thicken, lower the heat and slowly reduce to 1 cup. The resulting liquid will be thick, shiny and smooth. Use chilled or at room temperature.
This sauce will last for weeks.