2021 Holdredge Russian River Valley Pinot Noir

---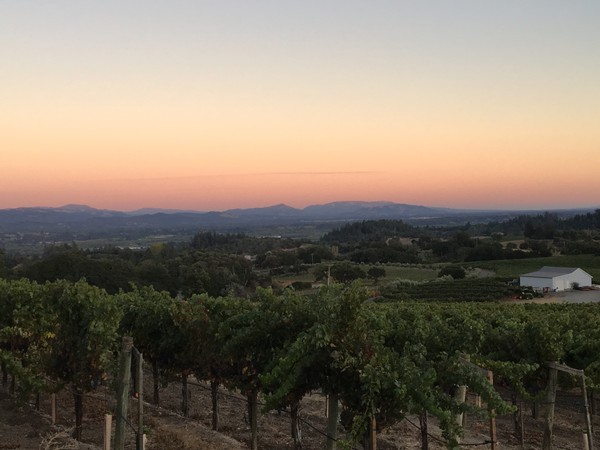 The Place
Because this wine is a blend of multiple vineyards throughout the Russian River Valley, to discuss the place would require more time than you'd care to spend reading. From higher elevation sites (outside Occidental) to warmer sites (Westside Road), to sites with very deep well-drained sandy soils (valley floor east side of the river, the wine is a composite of many different voices. Our approach to this wine is to try to find a blend that exemplifies what we feel about the Russian River Valley, and how we perceived the voice of each different vintage.
Carri and I love the Russian River Valley- it's where our two lives became one, it's where we began as winegrowers, it's where we learned how to make wine, and where we raised our children (who are now adults). I can't imagine how our lives would have been were it not for the magic of Sonoma County, and the Russian River in particular. The place has a voice, that for us, speaks of the overarching power of nature, that has an undeniable sense of elegance, graciousness, and kindness. Such things may not be tangible, but the voice of this special place is very real, and we think in many ways it is the hallmark of wines that come from here, both our own and those that friends make.
The Wine
Since Nature makes these wines, we don't really have a say in what they will be, but in a way, I feel like this is a wine I've been trying to make for a long time, perhaps without even realizing it.
We opened a bottle in mid-April, and after smelling and tasting it, I looked at Carri and said "that's a serious wine". I didn't mean that qualitatively as much as I meant that it's a wine of purpose, one that doesn't just reveal a sense of place, it seems to know the place where it is from, and where it is going. Driven by a wonderful savory component with plenty of underlying fruit, it has a firm palate built in part by a nice level of superfine tannins that dance around the palate. Incidentally, if there were any questions about whether I took any shortcuts doing punchdowns as I worked the 2021 harvest solo, I think this puts them to bed; you don't get these tannins except by hard work.
Perhaps the best description I have for this wine is that it is "thoughtful", and true to that, I spent a lot of time thinking about it as I nurtured that glass. And the next ones. I am always the first to decry anyone comparing Russian River Pinot Noir to Pinots from a certain other place in the world; I'm always the first to insist that the voice of this place is its own. But I think this wine, perhaps more than any I've ever made, invites such comparisons. It's one to enjoy now, but make no mistake, it is very age-worthy, and will be revealing itself long after the next 10 years. Only 200 cases produced.
Wine Specs
Appellation
Russian River Valley