2018 Holdredge Russian River Valley Pinot Noir - 93 points

---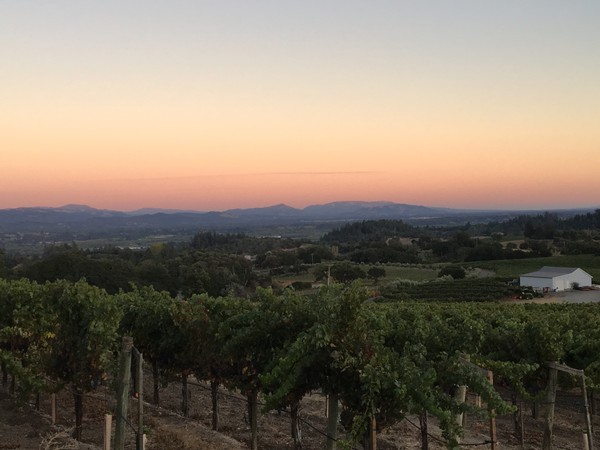 The Place
Because this wine is a blend of multiple vineyards throughout the Russian River Valley, to discuss the place would require more time than you'd care to spend reading. From higher elevation sites (outside Occidental) to warmer sites (Westside Road), to sites with very deep well-drained sandy soils (valley floor east side of the river) and heavier soils (Laguna Bench), the wine is a composite of many different voices. Our approach to this wine is to try to find a blend that exemplifies what we feel about the Russian River Valley, and how we perceived the voice of each different vintage.
Carri and I love the Russian River Valley- it's where our two lives became one, it's where we began as winegrowers, it's where we learned how to make wine, and where we have raised our family. I can't imagine how our lives would have been were it not for the magic of Sonoma County, and the Russian River in particular. The place has a voice, that for us, speaks of the overarching power of nature, that has an undeniable sense of elegance, graciousness, and kindness. Such things may seem like a fantasy, but the voice of this special place is very real, and we think in many ways it is the hallmark of wines which come from here, both our own and those or friends make.
The Wine
The personality of Pinot is a bit of a chameleon: it can show certain aspects one day, and the next day seems a completely different wine. I've lost count of the number of times I tasted a wine from barrel and had to check to confirm I wasn't mistaken about what I was tasting because it was so different than the last time through. It's not at all uncommon for me to love a wine one day, and a few days later hate it (although Carri might suggest the personality in play is just as much mine as the wine's). A running joke is that we hope to bottle on a day I like the wine.
Usually, our blending trials for this wine are done by early March – and though we may tweak it slightly, later on, the blend is pretty much set. But as March gave way to April and then May, I felt the wines had changed dramatically, so much that for the first time in our history, we literally started over with new blending trials. And we kept doing trials, literally until we finally reached consensus about two weeks before we bottled. No matter what approval Carri gives (and hers is the one that counts), I'm almost always left wondering what we could do to make it even better. Not in 2018; I never had another doubt about it.
Unsurprisingly, the final blend reflects the story of place. It is very much Russian River Pinot Noir – red and black fruits, floral and spice notes, a balance between showing richness and keeping focus, nice mid-palate weight, and the overall elegance I expect from this wine. As always, it's very versatile with food – and paired with grilled pork tenderloin and Moroccan spices a few nights ago it was amazing. The 2018 reminds me quite a bit of the 2004; which we opened a week ago, and is still youthful and very nuanced. I think this is going to be a wine that can be enjoyed for the next 7-9 years, and quite likely well beyond that time. 93 Points- Jeb Dunnuck
Wine Specs
Appellation
Russian River Valley