2017 Holdredge Three Sisters Vineyard Fort Ross- Seaview Pinot Noir

---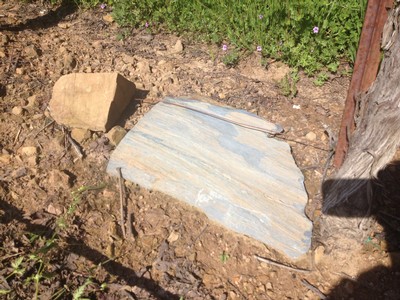 The Place
The "Three Sisters" Vineyard sits at the very top of the second ridge in from the Pacific Ocean, approximately 1260 feet above sea level in the "Fort Ross-Seaview" appellation. To describe the surrounding terrain as "rugged", or the site as "remote", doesn't really begin to even capture it. The vineyard is located on "Bohan-Dillon" Road, which is the site of a tiny handful of iconic "true" Sonoma Coast vineyards, including Marcassin, Seaview, and Blue Slide. Surrounded by steep slopes and forests of unrelenting beauty, the vineyard has a voice quite unlike any of the others we work with, even in the Sonoma Coast.
The soils are "Josephine" series soils, which are the residue of sedimentary and igneous rocks. They are typically found on ridgetops and slopes (most commonly steeper slopes) and are underlain by tilted slate and shale. The first time I walked the vineyard, I literally stumbled across a huge slab of slate; and that is the kind of thing that gets a winemaker's pulse racing (second only to the friendly rattlesnakes who find that lying underneath is a cool way to spend the afternoon!).
Aside from the empirical aspects of this very special place, the growers, like our other growers, are people I genuinely care for and respect. In this instance, they are Lee Martinelli Jr. and his wife Pam, whose farming roots in this county go a long ways back. In fact, Lee's great-grandfather grew up on the ranch, rode a horse to school, and ran sheep there for many years. I love just walking the vineyard and enjoying the spectacular views, and reveling in the feel of the place. It took me almost a dozen years to convince Lee and Pam to sell me fruit from this special vineyard, and we are honored to be able to include it in our portfolio of wines.
The Wine
After the initial heat wave that kicked off the 2017 harvest, temperatures really moderated. Heck, it rained for a couple days in mid-September, but the pace of things slowed, and picking decisions didn't seem so pressed- we could afford to let things hang a bit. As I started increasing my trips to taste the fruit at Three Sisters, I was struck by how long they were holding- every time I'd taste them, I'd think "three more days", and then I'd return in three days and think I still wanted three more days. Finally, in late September, I drove up and it was like someone had flipped a switch. The grapes weren't a bit sweeter, but the flavors were stunning, and there was just a hint of dimpling in the skins- in other words, it was time to pick.
The ferment (wild yeast as always) kicked off more quickly than usual (only four days), and was marked by higher temperatures (it crested at 92 degrees, and as a result, fermented rather rapidly for us (about 11 days). So, instead of pressing it off and finishing in the barrel, I made the decision to prolong the skin contact to extract a little more skin tannin. I blanketed the fermenters with argon, and sealed them tight, and did an "extended maceration" for an additional week.
The result was all I hoped for. The wine (a blend of clone 115 and Pommard) is emblematic of this vineyard, it has a red fruit flavor profile, and as has been our experience, is quite light in color. Those that would judge the depth and complexity of a Pinot by simply looking at the color would be seriously mistaken to do so with this wine.
It carries itself with almost a regal countenance, while at the same time not coming across as "too serious for its own good". Superfine tannins are nicely laced into the palate, and the weight belies the color. But I think it expresses the emotion of the vineyard in a most extraordinary way- there is a lifted, almost ethereal quality to it, as those the red fruit notes are fluffy clouds- light red pillows if you will, which, for a vineyard sitting at 1260-foot elevation that often sits in the clouds, is perhaps as true to its origin as a wine can be. We last had it with a rack of lamb (sous vide for four hours, then seared on the grill) and a potato gratin, and it had the acid and tannin to nicely cut through the fats of those dishes. 104 cases made. Drink now through 2028
Wine Specs
Appellation
Fort Ross - Seaview