2017 Holdredge Petits Cadeaux Russian River Valley Pinot Noir

---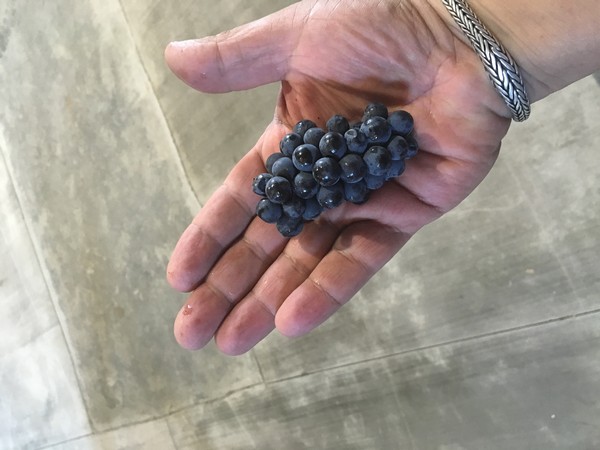 The Place
This wine comes from the "Maratella" Vineyard, which is located on the "Laguna Bench" - a slightly elevated section of land that sits in the middle of the Russian River Valley floor, generally between River Road and Piner Road. The soils are known as "Huachica", which is a clay-loam series. While some winemakers decry clay loam soils for Pinot, the simple fact is that well-drained clay soils can offer a remarkably deep flavor profile. The combination of well-drained clay soils doesn't occur often in nature; in this instance, it is the result of an amazingly complex system of engineered subsurface drains. But this technical aspect pales in comparison to the meticulous farming- there isn't a single leaf out of place.
Friendship makes for the best wines- in addition to loving the voice of a place, it is very important that our growers are people we like- it's how the whole thing comes together. In part, what makes this vineyard special is the talent of my friend Mike Sullivan (winemaker and part owner of Benovia Winery which owns the vineyard), who farms with a zeal that pushes the limits. Mike's vision was to plant the clones a winemaker would want, including some very rare clones. I take different clones from a few blocks, but my two favorites make up the backbone of this wine- both are reputed to have originated in the French village of Chambertain, and are distinctive in that they produce incredibly tiny clusters; barely the size of the palm of your hand. These tiny clusters have tiny berries- so there is a lot of skin relative to juice- and skin is where all the good stuff like flavor and color comes from.
For a winemaker, these clusters are "little gifts" from nature (hence the name "petits cadeaux"; they are pretty much the structure every winemaker is thrilled to have cross their sorting table. I only wish there were more.
The Wine
2017 kicked off with a thunderous roar. Late August brought an incredible heat wave, like nothing we had ever seen. Farming has come a very long way in the past 20 years, and with it, techniques to deal with the heat. I can recall the 2003 vintage, where lesser heat levels wreaked havoc on the grapes, but our growers battened down the hatches and dealt with it, and things were surprisingly unaffected. The real telltales of heat damage, shriveling, simply didn't occur. Still, by the fourth day of the heat wave, I felt we had to pick the tiny clusters that make this wine.
We picked the grapes and there was so little juice that the first punch down was like trying to push through concrete. While the grapes had kept their shape and not shriveled, the juice content was exceedingly low- as though they had simply given away moisture without changing shape. Obviously, we love a big ratio of skin to juice, and this played to that preference. We finally got the skins broken up a little, and Carri and I headed off to one of Tom Petty's last concerts (at the Berkeley Greek- and it was amazing).
We kept the punch downs to three a day until mid-ferment when we wanted a little more structure and went to five a day. Pressing was at minus 1 brix (not completely dry), and we finished the fermentation in barrel. Unsurprisingly, the wine had a very low pH, because we picked the grapes before they respired a lot of the acid.
Our first showing of the wine was at barrel weekends in March, and it was an absolute smash hit. It is a big, round and weighty wine, and carries a huge note of blackberries, and Burbank plum skin. In terms of the palate, it carries a creaminess and elegance- and never veers into being ponderous. Frankly, is still returning from bottling (the roughest 12 seconds of its life!), so for now, we are decanting it for a couple hours (you can just open and drink it, but the nose really opens up, and the wines gain considerable weight with decanting). Its fabulous on its own, but we paired it with Pinot braised short ribs, with a reduction sauce, and a sunchoke/parsnip puree, and it was out of this world. 126 cases made. Drink now to 2025
Wine Specs
Appellation
Russian River Valley