2016 Holdredge Russian River Pinot Noir Petits Cadeaux


SOLD OUT
---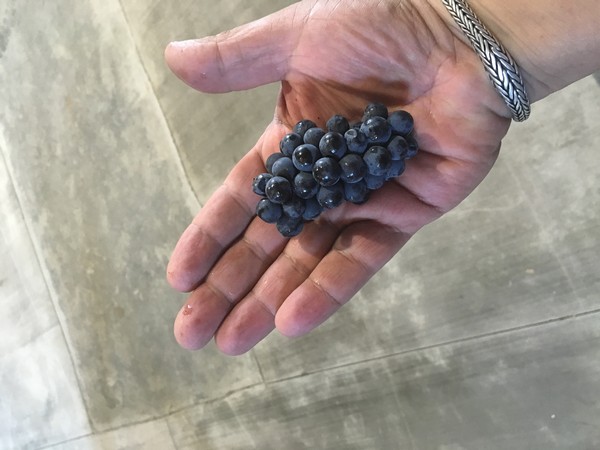 The Place
This wine comes from the "Maratella" Vineyard, which is located on the "Laguna Bench" - a slightly elevated section of land that sits in the middle of the Russian River Valley floor, generally between River Road and Piner Road. The soils are known as "Huachica", which is a clay-loam series. While some winemakers decry clay loam soils for Pinot, the simple fact is that well drained clay soils can offer a remarkably deep flavor profile. The combination of well drained clay soils doesn't occur often in nature; in this instance it is the result of an amazingly complex system of engineered subsurface drains. But this technical aspect pales in comparison to the meticulous farming- there isn't a single leaf out of place.
Friendship makes for the best wines- in addition to loving the voice of a place, it is very important that our growers are people we like- it's how the whole thing comes together. In part, what makes this vineyard special is the talent of my friend Mike Sullivan (winemaker and part owner of Benovia Winery which owns the vineyard), who farms with a zeal that pushes the limits. Mike's vision was to plant the clones a winemaker would want, including some very rare clones. I take different clones from a few blocks, but my two favorites make up the backbone of this wine- both are reputed to have originated in the French village of Chambertain, and are distinctive in that they produce incredibly tiny clusters; barely the size of the palm of your hand. These tiny clusters have tiny berries- so there is a lot of skin relative to juice- and skin is where all the good stuff like flavor and color comes from.
For a winemaker, these clusters are "little gifts" from nature (hence the name "petits cadeaux"; they are pretty much the structure every winemaker is thrilled to have cross their sorting table. I only wish there were more.
The Wine
The clones that make up the most of this wine were the first wines we picked in 2016. Along with a small piece of one other vineyard, they were the only grapes in the winery for about ten days- so to say they were lavished with attention is an understatement. As is our practice, all fruit was 100% destemmed, and underwent a 7 day cold-soak before fermentation began on native yeasts. During that time, we punched down (by hand of course) an average of four times per day to increase extraction from those tiny berries, and in this instance, I pressed to the wines barrel before they were completely dry, preferring to finish in barrel for a bit more roundness.
We blended a small amount – roughly 4% each- of some Pommard clone (a little bit of backbone), and Martini clone (a little brighter aromatics) into the final blend. The resulting wine is dark, rich and powerful, with the darker berry flavor profile that physiologically fruit from well-drained clay soils can produce. I think if there were such a thing as a black strawberry, it would describe this wine, but the flavor profile does offer a bit of everything from higher pitched notes of cranberry to earthy notes of mushrooms. We found it paired quite well with Lamb Chops and duck fat roasted potatoes.
"....nearly impossible to resist upon release. What a pretty wine it is." 92 points -- Antonio Galloni; 90+ points -- Jeb Dunnuck
Wine Specs
Appellation
Russian River Valley