2016 Holdredge Pinot Noir Russian River Valley 5L

---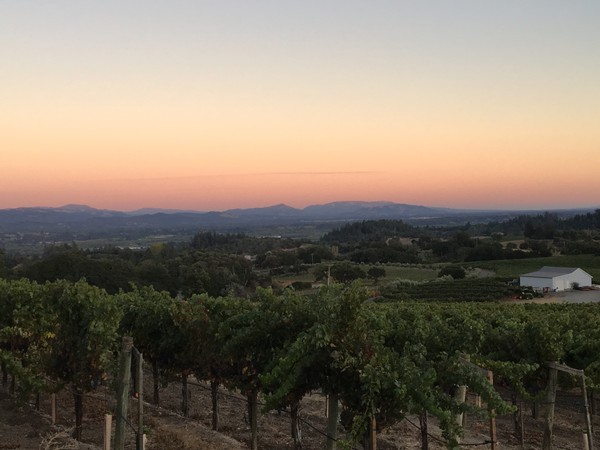 The Place
Because this wine is a blend of multiple vineyards throughout the Russian River Valley, to discuss the place would require more time than you'd care to spend reading. From higher elevation sites (outside Occidental), to warmer sites (Westside Road), to sites with very deep well drained sandy soils (valley floor east side of the river) and heavier soils (Laguna Bench), the wine is a composite of many different voices. Our approach to this wine is to try to find a blend that exemplifies what we feel about the Russian River Valley, and how we perceived the voice of each different vintage.
Carri and I love the Russian River Valley- it's where our two lives became one, it's where we began as winegrowers, it's where we learned how to make wine, and where we have raised our family. I can't imagine how our lives would have been were it not for the magic of Sonoma County, and the Russian River in particular. The place has a voice, that for us, speaks of the overarching power of nature, that has an undeniable sense of elegance, graciousness and kindness. Such things may seem like fantasy, but the voice of this special place is very real, and we think in many ways it is the hallmark of wines which come from here, both our own and those or friends make.
The Wine
2016 was the third in a series of extraordinary vintages nature provided. Although the harvest was earlier than many, it wasn't brutally so, and it had a very steady pace- as though nature was going to allow us to enjoy it, rather than suffer through it (believe me, she has other moods which are not as pleasant!). I think more than anything, it was just a very consistent vineyard, and ultimately, we found we were able to achieve full ripeness without the impact of late season heat that can lead to raisins and "pruny" flavors.
This is not a timid wine- far from it. It has a strength and certainty about itself, and in terms of structure, it's fair to say it has "big bones". Yet it manages to carry that structure without veering into being clumsy- there remains a precision throughout (the acid which is a hallmark in the Russian Rivery Valley). The flavor profileis darker than in some vintages, that's simply how 2016 shaped up for us, and macerated black cherries, ripe blackberries dominate the nose. And then, just when you think you've pegged the wine, a note of candied orange peel or allspice can pop up, and add another layer.
This is a wine we sell mostly to restaurants, so we try to release a wine that is ready to drink. We have found this one can open up over several days, so we are decanting it for now, and while we favor it for early drinking, I think it will improve over the next 4-6 years quite well. It's pretty versatile, and while it is a nice fit with a simple piece of grilled salmon, it can easily handle more complicate dishes; seared Ahi with truffled mashed potatoes and demi-glace was a very nice fit the evening before I wrote about this wine.

"A classy, restrained wine that shows the more finessed side of the appellation... I very much like the precision and persistence here, especially within the context of an appellation-level wine." 90 points -Antonio Galloni; 93 points -Wine Enthusiast; 92 points Wine & Spirits Magazine
Wine Specs
Appellation
Russian River Valley