2016 Holdredge Pinot Noir Judgment Tree Russian River Valley 3L

---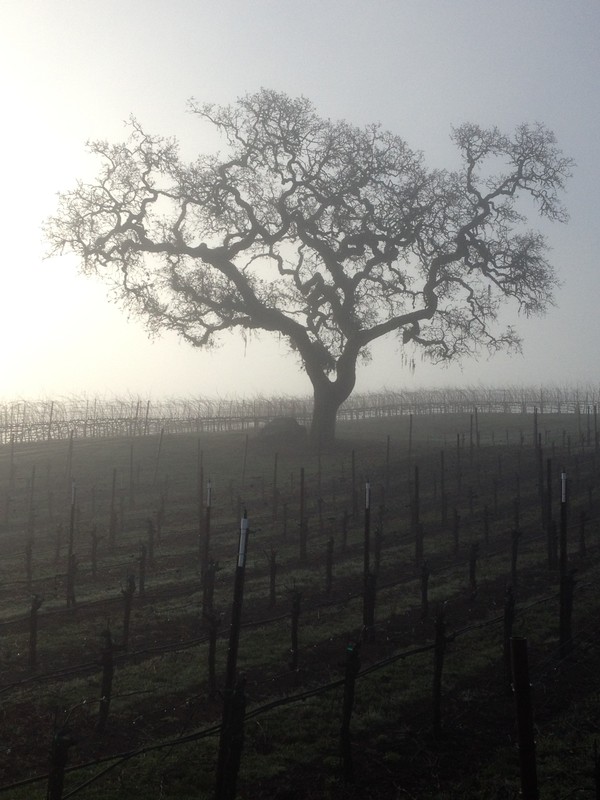 THE PLACE
This wine comes from the "Sweetwater" block at the Rochioli Vineyard. One of the most iconic North American Pinot Noir vineyards, the story of Russian River Pinot Noir literally began at Rochioli. The vineyard sits at the intersection of Westside Road and Sweetwater Springs Road, and the Sweetwater block is their highest elevation planting of Pinot Noir. It is planted to 100% Rochioli West Block clone (until 2015, all our wines from there had a small amount of Pommard clone, which was replanted. The vineyard sits on a northeastern facing slope, has highly prized Goldridge soils, and the rows run northeast-southwest.
Being part of the tiny handful of winemakers who get to make wine from here is a real privilege. There is a pedigree to this site that just has a presence you can feel. I lack the words to convey how strong that presence is, it's really just something you have to experience by walking the vineyard. We always say that wines have two judgment days- the day you harvest the grapes and the day you bottle the wine. If you lied to yourself in the interim (that's good enough, that can wait, etc.) you have to face those lies, and it isn't pleasant- so it does keep us on our toes.
So as I walked the vineyard one afternoon, getting ready to call that first harvest, I found myself at the top of the hill, standing under a massive oak tree, eating berries and thinking that "judgment day" was coming. Just then, I looked up at the tree, and thought for as expensive as these grapes are, if I screwed up this wine, Carri would hang me from that tree. When I got home, she asked how the fruit was and I told her "fantastic". "What are you going to call it?" she asked, and I replied "Judgment Tree".
THE WINE
The 2016 was one of the later wines of the vintage for us, it just seemed to want to linger in the vineyard. I walked it almost daily the last two weeks before picking, and each day, the vineyard kept telling me to wait. The morning we picked was particularly cold, and the grapes came in at about 49 degrees, so we enjoyed a very nice 8 day cold soak. During the ferment, the wine really took charge of itself, and its personality began standing out almost immediately. I always think the wines from this place show a sense of knowing who they are, where they are from and where they are going.
This certainty about itself was evident early on, it just seemed to not need anything; it knew what it was doing. The wine carries a lot of expressive floral and perfume notes, with loads of strawberries and pomegranate, and a hint of spice. I think it is both complex and exuberant, and while understated, the certainty it carries about itself reveals a finessed Pinot Noir with tons of personality, really excellent balance. We are enjoying it now, but it should continue to evolve and improve for the next 7-9 years.
"...impeccably balanced and classy to the core" 93 Points- Jeb Dunnuck; 92 points- Wine Enthusiast; 90 Points- Antonio Galloni
Wine Specs
Appellation
Russian River Valley