2015 Holdredge Judgment Tree Russian River Valley Pinot Noir

---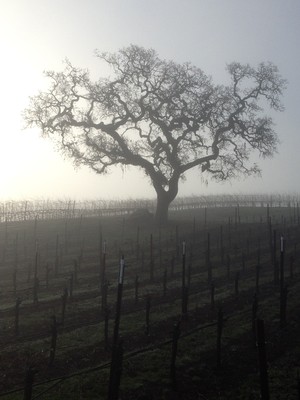 The Place.
This vintage was a milestone for our relationship with the place where these grapes are grown. We are one of only a tiny handful of wineries able to get Pinot grown by the Rochioli family, something we consider to be a privilege. This is grown on their highest hillside, the "Sweetwater" vineyard, which is Tom's own project. It is mostly from the proprietary Rochioli "West Block" clone, along with a little Pommard, which adds a note of earthiness and darker fruit.
The Wine.
The vineyard is planted to 100% Rochioli "West Block" clone (some Pommard clone we used to take is being replanted). Whether it's the soil, the clone or whatever, we always have more tannin to deal with in this vineyard. But with the extra hang time nature allowed in 2015, the tannins became super ripe and very fine and silky. Some of the past vintages of this wine have needed time for the tannins to smooth out- not this one.
It is driven by darker red fruit notes, and in the mouth, the tannins are super-fine and just part of a seamless elegance. We both feel this has a "polished" character- indeed, it is a very focused wine- tons of depth (but not ponderous), but the acidity and fine tannin keep the palate focused. I hate it when winemakers say "this may be our best yet"- I have no idea what "best" means- but we both think this is by far our favorite wine from the Rochioli vineyard at this stage. You can open it right now- tonight if you like- or enjoy it over the next 10-12 years.
92 - Wine Enthusiast
"This is a fresh, exotic and beguiling wine, with youthful tannins and nice concentration. The rich, bold flavors are marked by cherry, cola and a touch of smoky char that lead to highlights of clove and forest floor." —V.B.