Wine Club – March 2017
With our spring release, we are releasing our last wine from the 2014 vintage. I feel we'll look back on the vintage as a watershed year. Every year we feel like we have learned a lot, but 2014 felt like a year where the kindness of nature and our skill set seemed to just converge, and we were left with some of the best wines we'd made to date. Or more correctly, that nature had made for us.

This is a pretty cool little 4 pack; with two pinots that are from completely opposite ends of the flavor spectrum, and a very rare wine from our other brand- Oscuro (Italian for "obscure"). They are more evolved than our wines usually are simply because they have been cellared longest, so there's no need to wait on any of these- although you certainly can- they will all age well. There are rumors of some forthcoming critical acclaim for some of our 2014s, but in the end, the critic that matters most to us is you. We think you're going to approve of these wines!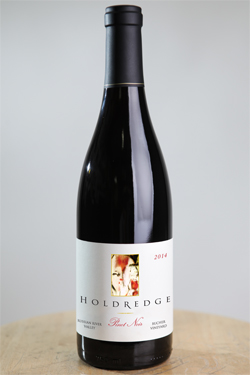 Holdredge 2014 "Bucher Vineyard" Russian River Valley Pinot Noir
Only 125 cases made.
$50/btl (Club Price: $42.50)
I've learned a lot about "place" at Bucher- I work with three different pieces of it, and they have all made decidedly different wines over the last decade, but with a common thread. In 2014, we actually picked our blocks at Bucher later in our schedule than we normally do, with our biggest pick being quite late for us. The weather cooperated, and the fruit seemed content to wait so we let it hang quite a bit longer than usual. Although Westside Road can get warm, we never really had an issue with severe heat (good canopy management by John Bucher helped a lot). So the flavors went far past where they normally are at harvest, and this is a very distinctive Bucher.

This wine just envelopes the palate; it is round, creamy, and full. If the "feel" of wine on your palate is something you understand, you'll love the feel of this wine. The common thread" of our wines from Bucher has been a nose of rose petal, and 2014 is no exception, but it's a much darker rose petal – like a Portland Rose. And the fruit profile is dark- black berries, black cherries, and black plums, with a hint of earthiness. This is a wine you can simply drink (sure, bring on the cheese), but to me, a little rack of spring Lamb would be a perfect pairing. This is a real pleasure to drink, and it has the acidity to hold itself well for some time. I'd suggest drinking them now (like right now!) and over the next 7-8 years.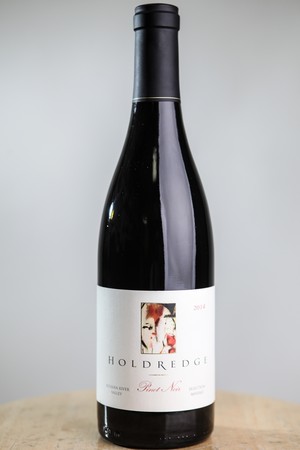 NEW RELEASE
Holdredge 2014 "Selection Massale" Russian River Valley Pinot Noir
Only 120 cases made.
$50/btl (Club Price: $42.50)
This one came out of nowhere. Historically, it has always been (except for 2007) our last pick in the Russian River Valley. Because the vineyard is a "mass selection" of Pinot clones, it's usually been a wine with a mix of lighter and darker flavors (again, except for 2007). As I walked this vineyard in the fall of 2014, I was struck by the tannin development, which was way further ahead of where it normally is at the levels of ripeness I tasted. That tannin development is usually slower, and makes us wait to pick, which alters the flavor profile. The last time I had tasted tannins like this in this vineyard, was, you guessed it, 2007.

So, I called the pick earlier than I usually do, and looking back it was a great decision. There is not a speck of black fruit in the flavor profile; it is simply a "perfumed" wine; with a showy, almost ethereal character; the kind of wine you just want to swirl and smell. Beneath that perfume (you'll see, it just jumps out of the glass) there's plenty of red fruit and spice, but at its core, it's the perfume that carries the day.

It is decidedly light in color, and a reminder that for Pinot, color is the least important part of the equation. It is so reminiscent of the 2007 (my favorite from this vineyard), except this is far more plush. Spring brings a chance to work with light seasonal ingredients, and I can see this complimenting a piece of salmon with some fresh peas. This is drinking well now, but should gain depth and improve for at least the next 6-9 years.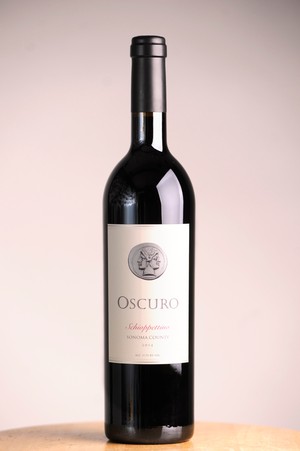 NEW RELEASE
Oscuro 2014 Dry Creek Valley "Schioppettino"
Only 92 cases made.
$38/btl (Club Price: $32.30)
This is an exceedingly rare grape from our other brand- which is in homage to John's Italian roots, and his desire to bring lesser known and sometimes obscure Italian gapes to our customers. They are all grown on volcanic soils (we did find a piece of quartz this year that had no earthly business being in those soils), and in a warmer mountain site, which is respectful of the Italian heritage. This grape, once thought extinct, is only cultivated in several villages in Italy, and we were the first American producer to release one starting in 2004.

The 2014 is Carri's favorite Schioppettino that we've made. She points to the black fruit and cracked pepper, and a subtle little thread of pie cherry woven through it. It has a nice full mouthfeel (always does), and as usual, the tannins are very silky and evolved. We've found this to be a super versatile food wine- from the cheese and cured meats before dinner, to meat (it sings alongside a grilled Chateaubriand with sauce béarnaise), to root vegetables (hello roasted carrots with tamarind), and of course, pasta dishes (non- tomato based). This is a really fun and delicious wine, and as we always say, the best part is you can brown bag it and quiet down that guy who knows everything about wine" (we all know one!).

Cheers!
John & Carri Holdredge