March 17, 2017 | John and Carri Holdredge
Holdredge Russian River Valley Pinot Noir "American Dreamer"- A Very Special Wine

A Very Special Wine- A Very Limited Offer.
2015 Holdredge Russian River Valley Pinot Noir "American Dreamer"
If you've been a customer for a while you may recall that in May 2005, I wrote about the best day of my life working in a winery. It was the first day my son Will, then 6, worked a full day with me in the winery, racking barrels. He'd had lots of small jobs starting at age 4; but this was the first full day he ever worked. He was so small, he could hardly turn a barrel to clean it. But he struggled through and we worked, and talked, and it was just the best day ever. Until now.
When we started, Saralee Kunde (the winegrower, not the baking company) sold us our first Pinot grapes from her eponymous "Saralee's Vineyard". It was the wine that took us from our plan of a Zinfandel and Syrah winery, to making nothing but Pinot. We've used those grapes every year since, and the plain fact is that Saralee had a huge impact on our lives; in fact, we wouldn't be sending this note were it not for her.
She was also a big part of Will's life too; I taught him to fish in the ponds in the vineyard starting when he was three, and we fished together there many times. He knew her workers, went to events at her home, and just loved that place. Saralee passed from cancer in 2014, and it was a great loss for our community and a loss for our family.
In 2015, as Will and I were racking our wines to prepare for bottling, he mentioned he'd done all "the parts" of winemaking, but he'd never made a wine from start to finish. He had a senior project coming up in school the following year, and decided he would make a wine in 2015, and auction some and donate some of the proceeds from selling some big bottles at auction to an educational barn being built at our local fairgrounds in Saralee's honor (for ag education for kids).
The harvest was short in 2015, but we pulled some strings, and somehow managed to get some fruit from "Catie's Corner" a vineyard Saralee used to own. Our friend Rod Berglund of Joseph Swan freed up a little "Swan Clone" from his rows, which in addition to being a generous move in a small year, was really cool because Rod and Saralee and I had some running jokes about certain Pinot from her vineyard that we "fought" over, and it was great to have Rod part of this story too.
Will did all the winemaking, getting to the winery before school, after school and after homework (he once missed 2 punch-downs because he had to study for and I made him punch-down every fermenter in the winery as payback). There were a couple technical decisions we talked through, but in the end he had to decide what he wanted to do. Personally, I think he made the right decisions all the way through, and I know he made this wine himself. Will came up with the name because Saralee was a dreamer who believed in America and in helping kids chase their dreams, and the barn project will help kids pursue dreams of careers in agriculture.
This wine is absolutely distinctive from all the wines I made- the kid made a great picking decision in an amazing vintage. The wine has fully ripe flavors, but tremendous focus from natural acidity. Will also extracted an amazing amount of tannins from his punch down regimen (oh, to be young and strong again!). As a result, the wine really has backbone and poise. We drank a bottle over a four night stretch; it is still incredibly young and tightly wound, but each day it became progressively more generous. Young wines with this structure can age a very long time; I fully expect this wine to be the longest-lived wine from our winery for this vintage, and given that structure, I think it may be one that shows well for 15 or more years..
Will sold two large format bottles (3 liter bottles) at auction for a combined $3,300.00! We have very little of this wine in 750ml bottles, so we have to limit this offer to first come/first served. It'll make a great story to drink someday, and you'll have a little "Holdredge History" in your cellar until then.
$42 (wine club price: $35.70). Only 30 cases produced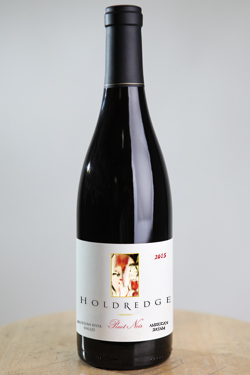 Buy Now >

Cheers!
John & Carri Holdredge