Family winery, limited production wines...
Our wine club members receive a guaranteed allocation of even our smallest production wines. As a result, our club is fully subscribed at this time. While we'd love to be able to accommodate everyone, our production levels limit what we can do. We have a wait list for our club, and as wines become available, we'll be able to add members. Wines may still be purchased online by non-members, subject to availability.

Join the Wine Club Wait List
---
Free to join!


Three Club shipments per year (March, Sept., and Dec. ) with four bottles per shipment selected by the Winemaker.

First crack at new releases and perhaps the only crack at some very small releases.

The ability to customize your shipment should you choose.

10% discount on all purchases including Wine Club Shipments, reorders & merchandise.

Access to Wine Club Members-Only tasting events, pick-up parties, & more.
We are truly a small family winery, devoted to the production of small lots of meticulously handcrafted wines made from Sonoma County grapes. We don't make a lot of wine- our typical production is usually in the range of 100 cases for each individual wine we make, and in many instances well less than that. So, we are limited to the number of members we can accomodate and currently have a waiting list.
It costs nothing to join, and club members receive 10% off on all wine purchases, re-orders, and merchandise.. Club shipments are four (4) bottles of wine three (3) times a year (March, September, and December) and you always have the option to customize your shipment. Re-orders limited to stock on hand, but at club pricing.
Members also receive special offers; like first crack at new wines, and exclusive offers on super-limited production wines before they are offered to our general mailing list. Members are invited to taste on a complimentary basis. Members can also bring along a guest for a complimentary tasting and even to our club pickup party.
We ask that you commit to one year of shipments with us, or a $60 cancellation fee will apply. 30 days' notice is required for cancellation.
The default wines in your shipment are the winemaker's selection, and we try to mix it up to keep it interesting. But, we give you the choice to login prior to your shipment and customize - so you can add to or mix up your selection of wines and still receive your discount.
We can ship your club selection (weather permitting) or you can pick it up at the winery. Members are asked to pick up their wine within 30 days of the club shipment, and we're happy to make shipping arrangements if needed.
These are limited production wines that you will be proud to serve to your friends, and which we know you (and they) will enjoy.
We look forward to having you in the family!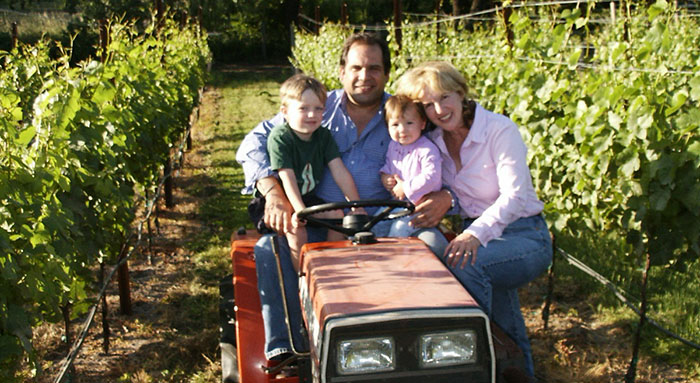 Our family – circa 2003