History of the Barn
---
It all began long ago...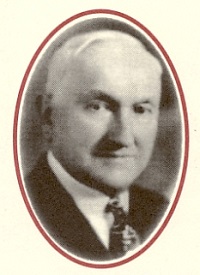 In discussing our own history, we always like to discuss the history of the old red barn that serves as our winery. We feel very connected to that history and in some small ways it still shapes what we do even today.
The barn itself goes back to the late 1800s, where it served as a winery owned by the French-American Tartar Works. In addition to making wine, grape juice and skins were processed into Cream of Tartar (aka potassium bitartrate), a stabilizer which is still used in some baked goods (makes them lighter). Back then, Cream of Tartar was often used to hold the stiffness of meringues and whipped creams, which was otherwise difficult due to the lack of refrigeration.
The Tartar Works was run by Georges de la Tour, who eventually became quite famous in the California wine industry. He left the French American Tartar works in 1900, when he purchased four acres of land in Rutherford, which became the foundation for the Beaulieu Vineyard (their flagship cabernet is still named after him).
Just as a home in Virginia might have a sign that says "George Washington slept here", so can we say "Georges de la Tour worked here".
The property then became the home of the Scatena Brothers Wine Company, about which we know very little. Scatena was owned at one point by the Alta Wine Company out of the central valley. Scatena later moved to Grove Street, and was ultimately purchased by the Seghesio family. In the picture below, our building (the barn), which was later slightly modified (the "extensions" on the side were removed), can be seen in the foreground.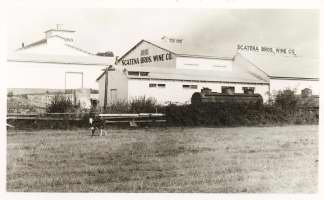 The cupolas on our building and the one on the neighboring building (background) in the background are both still there today.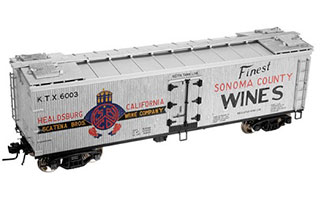 Replicas of the Scatena Brothers Wine Company freight cars can be found to this day.
Back then, the method of commerce was railroad, and as other manufacturers of that era did, the winery was located next to the railroad tracks, which are still alongside our building today. We know that Scatena shipped a lot of wine by rail cars.
During prohibition, the building became a fruit packing house/cannery. After prohibition, the building became the home of the "Prima Vista" winery, a new winery (many emerged after prohibition). They were producing some half million gallons a year of mostly sweet wine (dry wine had lost much of its place on America's table during prohibition). They also distilled brandy from the grape pomace, which they used to "fortify" some of the wines. The actual winery was next in the building next door (in the background of the photo above taken when it was Scatena Brothers).
Our barn was lined inside with huge redwood tanks. They would pump wine over from the building next door for storage in those tanks. Then, by way of a railroad spur that came right into the barn (you can still see where the tracks were removed from inside the barn), they would ship wine to their San Francisco facility for bottling. We also understand a fair amount of sweet and fortified wines were sent by a 6,000-gallon tanker truck to Modesto and sold to two gentlemen with the first names "Ernest" and Julio".
Prima Vista ended in the late '30s, and was sold to the Roma Wine Company. Roma was a huge winery- said to be the largest of its time, and had twelve different production facilities in California, the largest one was in Fresno. Roma produced wine in the building next door, and like its predecessors, would fill railroad tanker cars with wine, and ship it to other places for bottling. Some bulk wine was bottled elsewhere for Roma (they had other bottling plants in the other parts of the country, which saved money on shipping costs), as well as bulk wine sales to many other companies which would bottle them under their own label.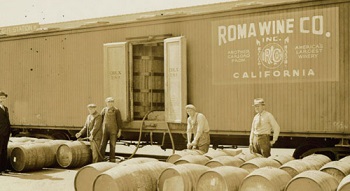 Roma's original "tanker" cars were not the essentially horizontal tanks we see today, they had upright wooden tanks inside.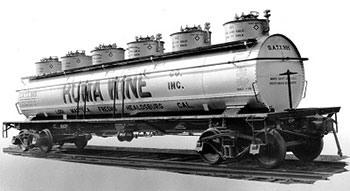 Eventually, Roma proudly announced the purchase of six new rail cars which are more similar to what we see today (note the reference to Healdsburg!).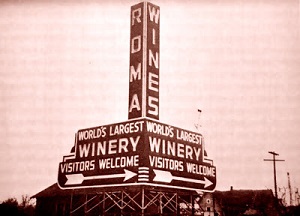 At its peak, Roma had twelve different wineries in California. By the 1950s, Roma had was recognized as the largest wine company in America (Roma claimed it was the largest in the world).
Incidentally, Roma had survived prohibition by making "sacramental" wine. Below is a letter from Roma office in Lodi to the "Chancery Office" in San Francisco requesting government approvals to make such wine. They made quite a point to describe the devout religious tendencies of their winemaker! It is interesting to note their alcohol levels ran from "12% to 14%", and their sweet wines ran to "18%". One is left to wonder how many different wines were needed for the sacrament.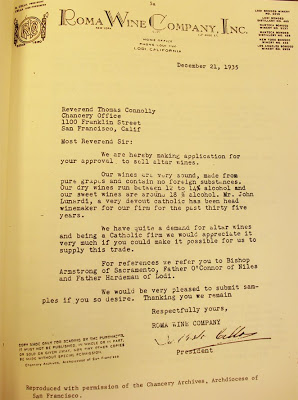 We have found that Roma made some 37 different types of wines- common names such as Chablis and Burgundy, and grape variety names like Zinfandel.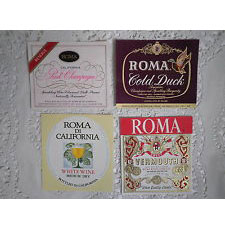 Roma also made a host of other products including "Cold Duck", Vermouth and "Pink Champagne".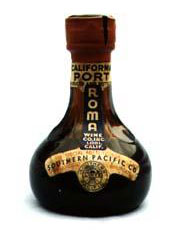 Roma also used some very interesting packaging/custom labels. Pictured below is a small "Captain's Bottle" of Port Roma bottled for the Southern Pacific Railroad.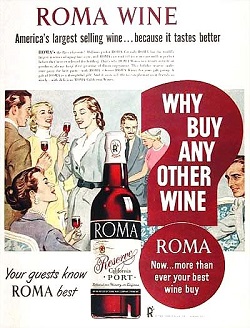 Roma left our building in the early 60s. It was then home to many other types of businesses (dry storage and the like) until we came in 2001. When we arrived, the building next door (the old winery) was essentially a gutted shell. We had looked at that building in terms of what might be possible after it was rehabilitated, but that was years from happening. Then I asked about the red barn, and the owner said "you wouldn't be interested in that", to which I replied "sure we would". One walk inside and it was absolutely obvious this was an ideal spot for doing what we wanted to do.
We haven't changed things a whole lot. You can still see where newer cement was poured when the railroad tracks were removed from the barn. Other than improving the electric, adding a floor drain, insulation and a tasting bar, things are pretty much the same as they ever were. The old growth Douglas Fir which graces the interior walls is still there, and you can still see where they cut one of the trusses to accommodate the biggest tanks. And of course, now there is a big chair out in front!
One of the things that connects us to the history in this building is that our secondary fermentations all occur naturally without any intervention from us. During this process, certain lactic acid bacteria eat the malic acid, which is a hard acid, and convert it to lactic acid, which is a soft acid. This makes the wine more supple. Instead of buying commercial strains of bacteria and adding them to the wine, we let it occur naturally.
It turns out we have a very active strain of lactic acid bacteria living in our barn, and a lab which plated it indicated it is a rather unique strain. We aren't chemists, all we know is that despite all kinds of conditions which can be averse to malolactic fermentation, all our wines have sailed through without a hitch, and without us having to add anything. This is apparently a strain left over from one of the past operations- maybe even the French Amercain Tartar Works! We always feel this connects us to the past, and it is rather cool to know that the same natural bacteria doing this noble work for our wines today is the same one that might have been present well over a century ago.
Our own history is quite short in comparison, but we are honored to be part of a lineage of vingerons who have toiled in the barn, and made wine that the world has enjoyed. We hope to do so for years to come.