2014 Holdredge Sonoma Coast Pinot Noir The True
SOLD OUT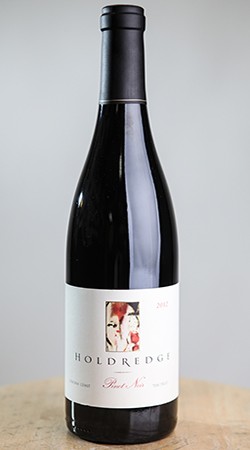 THE PLACE
"The voice of a remote place" might be a better description for this wine, as the vineyard it is from, the "Campbell Vineyard", is located about as far north and west as you can go in Sonoma County. Located just several miles from the ocean outside of the hamlet of Annapolis, the voice of this place reflects the convergence of mountains, redwoods, and the influence of the Pacific. These are all powerful influences on the voice of this place, and one can't visit the place without feeling that power.
The vineyard is on the 2nd ridge in from the Pacific. In northern Sonoma County, the 2nd ridge in is prized for its cold temperatures, well drained soils and sun exposure. It is warm enough to grow grapes (further west it becomes almost impossible to ripen fruit), but also dramatically cooler than the third ridge in. But even here, Pinot can struggle to ripen in very cold years.
These ridges are the product of plate movement, and at around 760 foot elevation, the vineyard sits high enough to stay out of the heavy fog for a good part of the day, but the proximity to the ocean means that in summer, it gets cold and stays cold. So, it's the combination of sun and cold (not cool) temperatures, with well drained soils that make the wine.
THE WINE
2014 confirmed my belief that it will take a few lifetimes to truly understand what nature can do. For years, this was the last vineyard we picked, and always the lowest sugars and made the most delicate wines. Then we had a series of vintages that had nice late season warmth, with a resulting richness in the wines. With the unprecedented early budbreak this year, and the harvest starting early, I figured the vineyard would be early, but last (or next to last), as it always is.
Nope. Nature had other plans. Yes, the wine came in much earlier than usual, but it wasn't at the end. This year, we picked it right in the middle of the harvest- and yet, it was gloriously ripe. One of the great things about a site like this is the cooler temperatures allow the grapes to hold acid, so in addition to really advanced flavor development, we had great acid (although we also had a lot of malic acid so as that dissipated, the mouth softened beautifully).
The wine is characterized by dark plums and raspberries, matched with the richness we've enjoyed from this place in recent years, but somehow, it still holds a sense of minerality. It's a very popular wine for us. What is most impressive about the wine is that it conveys, to me, the voice of that very remote and wild place where it is grown. Drink now for the next 7-9 years.
Cases produced: 106