2014 Holdredge Russian River Valley Pinot Noir Judgment Tree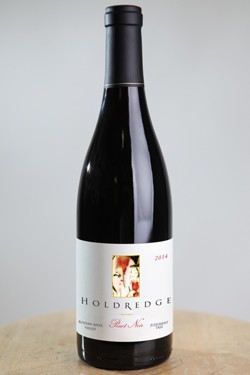 Wine Specs
Appellation
Russian River Valley
This vintage was a milestone for our relationship with the place where these grapes are grown. We are one of only a tiny handful of wineries able to get Pinot grown by the Rochioli family, something we consider to be a privilege. This is grown on their highest hillside, the "Sweetwater" vineyard, which is Tom's own project. It is mostly from the proprietary Rochioli "West Block" clone, along with a little Pommard, which adds a note of earthiness and darker fruit.
The 2014 is by far the richest, deepest and most full bodied Pinot we have made from here. Remarkably, the empirical data (brix, pH, acidity) were almost identical to prior years, but with a much richer flavor from the get-go. From day 1, we thought it could be a special wine, and by the time we bottled it I felt so very strongly; but when I got an email from Tom saying it was the best wine we'd made from his vineyard, it really was a great confirmation of what we felt.
It really shows darker red fruit- think strawberries at that zenith of ripeness before they go too far; with undercurrents of black cherry and a kiss of pie spice. As always, there are the super fine tannins that this vineyard delivers- not gripping tannins, just that bit of texture on which the rest of the wine can perch. It really adds up to a seamless wine, that is delicious and ready to drink. Sure, you could wait a few years- and the wine will most certainly evolve, but it is ready to afford immediate drinking pleasure.
Only 70 cases produced
Wine Specs
Appellation
Russian River Valley