2013 Holdredge Russian River Valley Pinot Noir Judgment Tree
The "voice of heritage"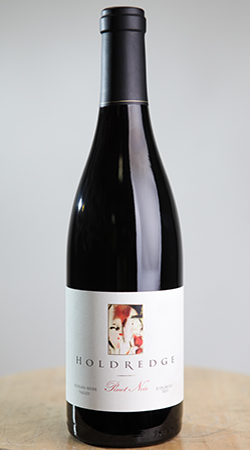 Wine Specs
Appellation
Russian River Valley
This is our second vintage of this wine. We are one of only four wineries able to get Pinot grown by the Rochioli family, something we consider to be a privilege. This is grown on the highest hillside, the "Sweetwater" vineyard, which is Tom's own project. It is mostly from the proprietary Rochioli "West Block" clone, along with a little Pommard, which adds a note of earthiness and darker fruit.
The 2013 is slightly riper (and accordingly darker and richer) than the 2012. Where the 2012 was perhaps a little more restrained on release, this is anything but- offering generous notes of berries and stone fruits, but still graced by the floral notes and great structure. As in the prior year, this is my 'personal" baby (along with one other) that nobody gets to work with but me- all the punch downs, everything.
A good indicator of a wine's potential can be the smell of the spent yeast cells ("lees") at the bottom of the fermentor. When I shovel the tanks or bins out to go to press, I evaluate them to see if the aromatics are such that I want to press that along with the remaining skins. In a vintage in which all the lees were at least very good- this one was a floral bomb- and as I squeezed them I smiled to myself, as I felt like we had really captured this place. After he tasted the wine, Tom sent me a note and all it said was "nailed it", which is all the validation I may ever need. As always, credit for the wine goes to the place, the grower and Mother Nature. While delicious now (really delicious!) it should improve for a number of years, with the "peak" window extending until at least 2026.
Only 74 cases produced.
Wine Specs
Appellation
Russian River Valley