Barrel Weekend!
| | |
| --- | --- |
| Date: | Fri, Mar 10, 2017 - Sun, Mar 12, 2017 |
| Time | 11:00 PM to 4:00 PM |
| Venue: | Holdredge Wines |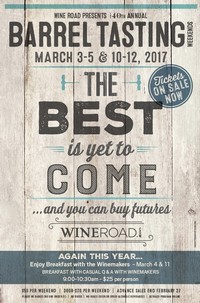 Barrel Weekends are coming up quickly, so we're giving you the low down on the event. First and foremost, it's going to be a really good time. If you haven't attended before, it's an opportunity to taste our current 2016 vintage wines in barrel, and buy "futures" of the wines you like at a very low price (buy now at a super low price, pick them up same time next year). John thinks the 2015s are phenomenal, and if you were smart enough to buy futures, you'll feel like Einstein after you taste them.

Unfortunately, we only have a limited amount of wine we can sell as futures. If you have purchased futures from us in the past, we will guarantee you an allocation. Last year, we ran out of our allocated futures before the last day of the event, so be warned, once they are gone, they are gone. (hint: Don't wait until the last day!) Usually, we have at least a couple wines in barrel to taste "in front" (Typically one Pinot and one of our super-rare Italian varietals), as well as a bevy of finished wines to taste at the bar, including last year's futures.
During this event, John will be working "in back", pouring some very cool wines that are only available as futures to folks on our list-like you! To be able to go "in back" you'll need the super-secret password, which this year is: "You is a straight-up G", so please don't share it!
Wine club members can enjoy our (modest!) "club lounge" - a separate area for wine club members to relax. Your March wine club shipment will also be available for pick up throughout the event.

Lots of wineries participate, both weekends are a blast, and tickets can be purchased here.
If you can't make it but are interested in futures, send us an email and we'll let you know what is available.