The Oscuro Wines
"Oscuro" is Italian for "Obscure". The focus of this project is on some less well known, and sometimes downright "obscure" variteies of red grapes from Italy.
This project initially began in 2004, when some friends called us about some rather unusual grapes growing in a small vineyard at a home they had purchased. After some research, we learned that the grapes were called "Schioppettino". The previous owner had worked for a grape nursery that had brought in some bud-wood for an experimental planting, and installed a very small planting for himself.
Schioppettino is a decidedly uncommon grape in Italy, and downright rare in the United States. It orginated near the border of Slovenia. There are records of Schioppettino being poured at weddings back to 1282. It was thought to be extinct after the phylloxera scourge of the late 1800s, and was not replanted as growers were favoring other varieties of grapes. In 1978, some vines growing in the wild were found, and a few artisan growers in Friuli (northeastern Italy) began to resurrect the grape, where it still has a small presence.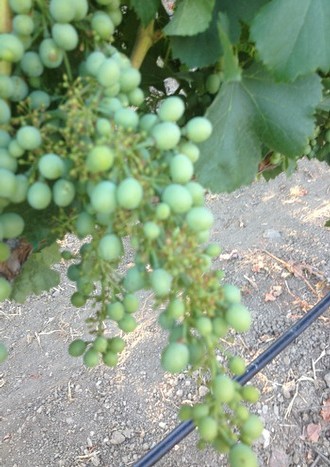 In the vineyard, Schioppettino is very prone to "shatter", so the flowers do not make a grape, which results in very loose clusters, and all the berries getting full sun.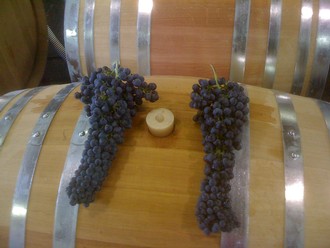 But once the berries swell, some of the clusters can be huge- and are quite elongated with what we call an "inverted heart" at the base of the cluster":
This variety is physiologically ripe at lower alcohol levels, and we've never made one over 13.8% alcohol. In some ways the wine is reminiscent of of Zinfandel and Syrah, but it is really like nothing you have ever tasted. Unsurprisingly, it is a black fruit driven wine, although pie cherries can be evident, as well as aromatic notes of of pastis and cracked pepper. At the same time it is completely unique and very versatile in terms of food pairing- especially with things of the earth (pizza with mushrooms, herbs and Fontina cheese is a house favorite).
We vinified the grapes from 2004 to 2007, but in 2008, the vineyard was wiped out by Pierce's Disease. It looked like we were out of the Schioppettino business. But a friend of ours (an Italian of course!) named Bernie Orsi had liked the wine so much he planted some at his vineyard high in the hills above Dry Creek Valley. He also planted other less well known varieties including Aglianaco, Sagrantino and Montepulciano. All these wines are grown on red volcanic soils, and the climate is a nice mix of daytime warmth (not extreme heat), and more moderate evening temperatures.
With Bernie's help, we were able to return to making Schioppettino with the 2012 vintage. In 2013, we also made "Montepulciano". This grape is widely known in Southern Italy (but uncommon enough in California to warrant being included in our Oscuro wines). In Italy, it is grown in a number of provinces, including Abruzzo, Umbria and Marche. It is known for making dark, plumy wines of modest acidity and soft tannins.
Montepulciano should not be confused with the wine known as "Vino Nobile du Montepulciano" which is actually a wine made from the Sangiovese grape but grown in the commune of Montepulciano. On the other hand, the wine known as "Montepulciano" grows in many places, but not at all in the commune of Montepulciano. Of course, this situation is something only the Italians could create! Typically, the wines are labeled with the name of the grape and where they are from, so if they are grown in the village of Abruzzo, the wine is labeled as "Montepulciano d' Abruzzo". Ours will be simply labeled "Montepulciano", but if we were to emulate the Italians, it would be "Montepulciano d'Healdsburg".
The Oscuro project is one of love- and a desire to honor the history of these beautiful grapes. The wines these grapes produce are fantastic accompaniments to a wide range of foods. They are great alternatives to the more well known grape varities, and because of their more modest price point, they can offer a great enhancement to a weekday (or weekend!) meal. Perhaps their best feature is that when you pour them for your friend who claims to know "everything" about wine (and we all have that friend!), they won't have the slightest idea what wine it is. We call that game "Stump the Chump", and it's a house favorite (and yes, we get "stumped" all the time ourselves!).
We will be releasing the 2014 vintage Schioppettino and Montepulciano later this Fall. We currently have five distinct Italian varietals in barrel, and while this will never be a "huge" project, it will always be a fun and distinctive one. We think you'll enjoy these wines as much as we do.