2014 Holdredge Russian River Valley Pinot Noir Rolling Thunder
The "voice of a mountain"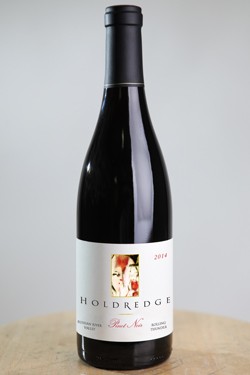 Wine Specs
Appellation
Russian River Valley
The Place
Traveling east from the Pacific in Sonoma County, one crosses three separate mountain ridges before entering the Russian River Valley. Nestled atop the third ridge in, above the town of Occidental, at around 800 feet elevation sits the Riddle Ranch, owned and farmed by Jim Riddle. While it isn't a "mountain" site in comparison to the Sierras, it is very distinct from the valley (and even has some flora that reminds me of the Sierras).
The elevation places the vineyard above the heavy fog, but the influence of the Pacific is strong; although the site gets full sun, the temperatures remain moderate. This isn't the influence of valley fog, but of the relentless power of the Pacific as it stays cold in the summer. Further north, the third ridge in gets much higher in elevation, and warmer temperatures are the norm. But here, just a couple miles inland from the ocean, the influence of the ocean is constant.
The voice of this place is that of a mountain; is it has a sense of resoluteness about itself, a determination to thrive despite the challenges presented by farming in such areas. For us, the most critical aspect this site presents is tannin management- the wines from this vineyard can be more tannic. We tend to let the fruit ripen a little longer here so that the tannins are fully ripe. This way, they are silky and refined, and while not at all obtrusive, they greatly contribute to structure of the wines from here.
Incidentally, the legal boundary for the Sonoma Coast appellation sits atop this vineyard: so it is required to be labeled a Russian River Valley Wine, but truly, it is within the "true" Sonoma Coast, if soil and climate mean anything.
The 2014
The 2014 was a barn burner from the get-go. I remember one morning during punch downs that the aromatics of raspberries were almost intoxicating (no, that wasn't the Carbon dioxide talking!) My tasting notes from that morning referenced "electric raspberry bunnies on acid". I have no idea what that means, and yet, I know exactly what I meant- it was vibrant and dazzling. The finished wine is very rich and full, but with a firm core, and retains that vibrancy. It is more to the black raspberry side of the flavor profile to be sure, and seems very reminiscent of our 2009 from this vineyard. Drink now - 2024.
Cases produced: 126
Wine Specs
Appellation
Russian River Valley